Great Value Garments Just Add Your Logo/Design
Hi-Vis Clothing You Can Trust
Suppliers of Personalised Workwear, Corporate Clothing & Uniforms Across Kent, London & the UK
We are a leading supplier of personalised printed & embroidered workwear, staff uniforms and corporate clothing for customers throughout Kent, London and the whole of the UK since 1988. The Logo Centre offers thousands of ready-made, quality products from leading brands and manufacturers, including big names such as Fruit of the Loom, Orn, Uneek, Gildan, Portwest, SOL'S, Result and Regatta.
We specialise in the embroidery and printing of your logo onto the clothing of your choice. Embroidered logos are effective on company polo shirts, sweatshirts, company shirts and fleece. The embroidery of company logos also works well on business shirts, jackets, corporate clothing, hi-vis, hospitality clothing, healthwear and many other types of clothing.
We are very proud to say that a very large percentage of our work comes from repeat business and recommendations from happy clients which we think speak volumes, so if you require any printed & embroidered workwear you know you are safe in our hands. We have been listening to our customers about the use of plastic and saving the environment click here for more information.
Essential T-Shirts and Hoodies Embroidered or Printed
We Have All The Top Brands For You To Choose From
High Quality Personalised Printed & Embroidered Workwear Clothing throughout Kent, London and the whole of the UK.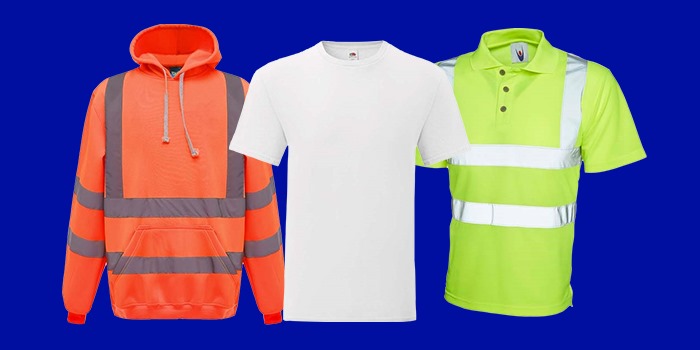 On every product page we show you clear and transparent pricing for the product, embroidery and printing throughout the process to ensure that there are no hidden costs. As every company's logo is unique, we will confirm the prices for logo embroidery with you once we have sight of your artwork.
From Erith to Enysford, Dartford to Dover and throughout Kent, London and the whole of the UK we at The Logo Centre are here to help you choose the correct clothing at the right price for your requirements.
For more information about our range of products, including our popular embroidered polo shirts with company logo and logo workwear printing services, speak to a member of our friendly sales team on 0208 310 3030 to learn how we can assist with all of your clothing and logo requirements or email us at sales@thelogocentre.co.uk